Management Team
Our people drive success.
Motivated by our core values, we are committed to supporting our customers, improving our work, and uplifting each other.
Tamea Franco
President/CEO
Bio
Motivated Risk Taker, Entrepreneurial Spirit, Passionate about Manufacturing and Mechanically Inclined are a few words that describe Tamea Franco. In early 1980, Tamea took up a "trade" and attended The Joseph Bulova School of Watch making in Queens, NY. The skill she gained in watch making and watch repair moved her career into repairing and making gold jewelry and diamond settings. After attending a Gemological Institute of America (GIA) program another student encouraged her to attend a creative school in Gatlinburg TN that would further feed her yearning to learn more about mechanical ingenuity and metals. That was where she discovered her new passion, an electrochemical process called anodizing. Her fascination with the process led her to open in 1987, Roanoke's first female-owned custom metal finishing business, East West DyeCom/Global Metal Finishing, Inc.
---
Ben Lawhorn
Vice President/Sales
Bio
Born and raised in Roanoke Virginia. Ben enlisted in the United States Marine Corps after high school and was honorably discharged after four years of service to our country. From there Ben continued to pursue his educational goals by attending Appalachian State University in Boone, North Carolina. Ben graduated with honors with a Bachelor of Science in Communication in 2006. In 2008 Ben joined East West DyeCom/Global Metal Finishing Inc. as an account manager. After learning the ropes and developing customer/client relations, Ben advanced to Vice President of Operations & Sales in late 2015. Ben continues work and maintains existing client relationships as well as building others in a variety of new industries. Ben is married with two beautiful daughters. His passions include; family, friends and manufacturing.
---
Sally LoDebole
Office Manager
Bio
Sally LoDebole joined Global Metal Finishing in 2013. Her vast experience in manufacturing and her exceptional organizational skills landed her the job. Her drive to push herself and her coworkers to the company's 2020 goals is unstoppable. She started her career in manufacturing in 1990 at ITT Industries. She quickly became a supervisor in the GASTECH/Micro Electronic Center (MEC). Her contribution to the building radar systems in an automated production and clean room environment was recognized and awarded. Sally was born and raised in Roanoke, Virginia and is a social celebrity. She has traveled around the world most notably the West Indies, Italy, and South America. Her son, Austin Clayton, will soon be attending the Roanoke City Police Academy later this year.
---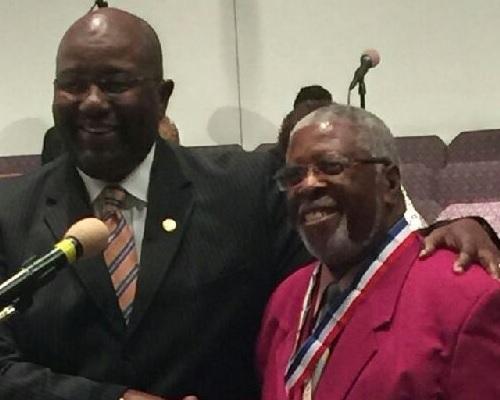 Richard Jones
Richard was recognized by the City of Roanoke Mayor for Citizen Award for outstanding work for his church and community
---
David Fralin
ISO Manager/QC Inspection
---