"The founding principle behind Global Metal Finishing is our dedication to the success of our clients."
-Tamea Franco, President/CEO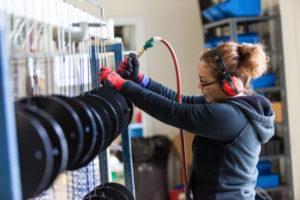 Located in Southwest Virginia, Global Metal Finishing is a multi-line aluminum anodizing and precision hard coating facility. A recognized expert in the aluminum finishing industry since 1987, we've been providing high quality finishing services to industries throughout the United States.
Our expertise is in consistent uniform coating of complex geometric parts. Because we operate our business as a remote work center for our customers, we've been able to build relationships that keep communication lines open, often bypassing many of the commonly made mistakes in aluminum finishing.
We know how to provide the proper protection and how to create the cosmetic edge your products deserve. We would appreciate the opportunity to get to know your organization and to speak with you about your metal finishing requirements.
Our Vision
At Global Metal Finishing, we are driven to create extraordinary successes for our customers, for ourselves, and for each other. Motivated by our core values, we are committed to supporting our customers, improving our work, and uplifting each other.
Integrity
Our integrity reflects our commitment to deliver what's needed, when it's needed, and as promised.
Accountability
We hold ourselves accountable to produce the best quality product and service in our industry.
Drive
We are driven to create extraordinary success for ourselves, each other, and for our customers.
Strength
Our strength lies in our focus on efficiency, stability and reliability.
Competition
We hold our competitive edge by asking each other and ourselves what is required to win in every situation.
Knowledge
Our endless pursuit of knowledge delivers qualified solutions.
Leadership
Our solutions lead those we work with to greater success.